Horario
Monday to Friday:
Saturday:

10:30h to 20:30h
10:30h to 20:30h


Visual examination without commitment to purchase

Glasses on the spot in 20 minutes

Contact lenses and first application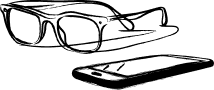 Blue light filter for screens
Protect yourself from the screens of electronic devices.

Anti-scratch, anti-reflective, anti-reflective and non-stick included
All our glasses include these treatments. At no extra cost.

Glasses progressive
Locally made laboratory lenses for any progressive range

Unlimited adjustments and repair service
We adjust and repair your glasses your glasses to make them as good as new.
Reviews
5/5 (Based on 389 Google Reviews)
Very professional and very attentive! Young people with preparation and a lot of patience. Beautiful frames at a very good price.
Fantastic professionals. Young people, very well prepared, patient, honest and very nice. My graduation is complicated and it is appreciated when the work is well done.
My glasses are super well graduated and perfect centers. I totally recommend them.
Just to say, it would be nice if they had more variety in frames. In that aspect they would have to improve. Otherwise a 10
Tamioe Planneradict
2 months ago
This is the second time I have bought glasses from them. The second time online. They have very good quality and a very good price. The truth is that I highly recommend them. No problem at all. Also, they are very fast. I placed the order on Saturday, and on Wednesday around 9 o'clock the delivery man gave me the package.
Conchi Ruiz Piñon
one month ago
Amazing treatment, has cool glasses made in Spain and amazing design. I bought some sunglasses but I will surely come back for others: Phenomenal prices.
Super professional and attentive team! They have been super nice throughout the process and I felt very comfortable!
I would like to highlight how dynamic and fast the visual exam was, and even faster the delivery of the product!
Pleasant and professional treatment. The price is the best I've ever seen for my graduation since I never enter the promotions of other opticians. Highly recommended.
Jonathan Pacheco Hernández
5 months ago
I was amazed with the whole service. I had the exam and then the purchase of the glasses. I really loved the service. The delivery times were great (and that fell on Easter) I recommend 100%
To my surprise I had a discount, I do not know how much, but because a friend referred me to this optician. In short 10/10
Susana Garcia
5 months ago
Excellent experience. The store is very nice and the space helps in the decision . A 10 to the sales clerks. Both the girl and the guy both super friendly, close advised me great. I am delighted with my sunglasses, I will return for graduates.