Horario
Monday to Friday:
Saturday:
from 10 am to 9 pm
from 11 am to 2 pm and from 3 pm to 9 pm

Visual examination without commitment to purchase

Glasses on the spot in 20 minutes

Contact lenses and first application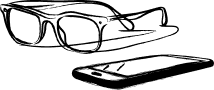 Blue light filter for screens
Protect yourself from the screens of electronic devices

Anti-scratch, anti-reflective, anti-reflective and non-stick included
All our glasses include these treatments. At no extra cost

Glasses progressive
Locally made laboratory lenses for any progressive range

Unlimited adjustments and repair service
We adjust and repair your glasses to make them as good as new
Reviews
5/5 (Based on 389 Google Reviews)
In addition to being a brand with high quality glasses and good design at a very reasonable price, the in-store experience is incredible. The optical review, the customer service, the services they offer... All in a very friendly and transparent way. I took new glasses and renewed my old ones with new lenses and a polishing treatment to make them perfect. Highly recommended.
This place is wonderful. A design optician's shop with very nice employees, a lot of models to choose from and a very good price (I have a lot of graduation and I got prescription glasses for 100€ when in other places I had to pay more than 300€).
The best optician in Barcelona, I had not seen a concept like this. They graduate you in 30 mins while they offer you a coffee or whatever you want. Epic !!!
Ariadna Cervià Caparrós
2 months ago
I loved it! I have made my first glasses and they have advised me perfectly at all times as I was a little lost. I have really been very happy with the attention and the product itself. Thank you very much.
Albert F. Prat
4 weeks ago
Excellent professionals. Optimal treatment. Thank you Eric, Dani and the whole team.
Carla Gonzalez
3 weeks ago
Excellent treatment and attention. La revisió de la vista feta amb molta cura. No tenen una gamma molt variada de models però igualment són boniques i fetes a Bcn. Paying 20€ they make them in half an hour. Jo he quedat molt satisfeta!