Horario
Monday to Friday:
Saturday:
11h to 14h and 15h to 21h
11h to 14h and 15h to 21h

Visual examination without commitment to purchase

Contact lenses and first application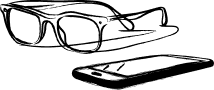 Blue light filter for screens
Protect yourself from the screens of electronic devices.

Anti-scratch, anti-reflective, anti-reflective and non-stick included
All our glasses include these treatments. At no extra cost.

Glasses progressive
Locally made laboratory lenses for any range of progressives

Unlimited adjustments and repair service
We adjust and repair your glasses to make them as good as new.
Reviews
5/5 (Based on 389 Google Reviews)
I have a high graduation (10 diopters) and my previous glasses cost me about 600€ here they have literally cost me less than half, they are also very professional, the two girls who have attended me are a charm.
Sonia Ballester
3 months ago
There hasn't been an eyewear store like this before. It is a new concept. The treatment is very professional. They give you a solution to any problem. Affordable price. Totally recommended. I bought some sunglasses and some prescription glasses for eyestrain. With the latter I had a problem adjusting the frame to my face and they solved it right away. Really great. Thank you very much.
Xabier Arregui
9 months ago
I purchased the Drake prescription glasses online this week and couldn't be happier. The mail service was fast, super friendly and very efficient. I was a little apprehensive about sending the prescription (it was also contact lenses) by mail but they knew how to manage it well and have arrived perfect. The shipping was very fast and the quality of the glasses was great, in any traditional optician I would have paid three times as much. Congratulations guys, you do a great job!
I am very happy with my 2 new glasses. Having a myopia graduation of more than 5 diopters in each eye, I have never been able to take advantage of any offer since I started wearing glasses 20 years ago. Being able to have glasses with high graduation at the same price as any other is already a differential fact that would make me stay with this brand but also the designs are great and the treatment is unbeatable. Thanks for offering quality glasses for all levels and lots of encouragement with your great project!
The attention is friendly and they are very prompt in the delivery. The frames are very nice and the fact that everything is included in the price along with the prescription lenses is also a plus. I recommend it!
I have been wearing the glasses for a week and the quality of the frame and lenses is excellent. They also provide an incredible service! from the eye exam, the help in choosing the glasses to the final delivery of the product on time. If you are looking for great glasses, very good quality and at a good price this is your choice! 100% recommended.